Scroll down to view all case studies
---
---
VIDEO CASE STUDY with:

---
---
COMPANY CASE STUDY

---
About us and the 'Not-for-Landfill' Campaign
Altus Intervention is a well intervention services company which is based in a 20 acre site at Portlethen and which employs in the region of 500 personnel for UK based work. We deliver enhanced well production and efficient solutions in a variety of workscopes including but not limited to Coiled Tubing and Pumping, Wireline, Cased Hole Logging, Pipeline and Process.
We have an unrivalled reputation within the industry for our ability to deliver safe and value-adding solutions in some of the most challenging operational environments worldwide.
We have a highly-skilled workforce whose in-depth knowledge and experience is vital to delivering a slick and efficient operation. Our execution model is further supported by a modern asset fleet where an investment in both intervention equipment and innovative technology products ensures best-in-class delivery across all our service lines.
We are fully accredited to ISO 14001:2004 for our Environmental Management Systems and also ISO 9001 and OHSAS 18001.
We constantly look at how we can improve and be at the forefront of best practice by implementing new innovations wherever possible. This includes our approach to Waste Management.
We have introduced a number of waste and energy efficiencies to achieve our goal of 'Keeping Energy usage at the lowest possible level.'
We were extremely keen to join the 'Not-For-Landfill' campaign because we felt that although we have a good management of waste already in place that we could benefit from the input and learnings from other companies and possibly implement these experiences into new practices.
---
What have we been doing to meet the 'Not-For-Landfill' pledge?
We have worked closely with One Stop Waste to collect and record all of our waste and provide their specialist knowledge and advice at regular meetings to offer potential ways of continual improvement.
We have implemented the Vickers Heating system for our base facility which reduced our energy consumption by 36%, increased the size of our interceptor for servicing our washbay from 14 ton to 36 ton, reduced our detergent usage by 55% by changing our method of use and following an ESOS (Environmental Savings Opportunity Scheme) audit have reduced our heating usage by 30%.
We also reviewed our recycling bins and in turn our waste collection frequency. This ensured better waste segregation, especially in the office environment. This increased our waste to energy figures which in turn reduced our landfill total.
Through awareness of partner agencies involved in 'Not-For-Landfill' we asked employees to consider filling a bag of clothing and bric-a brac and bring it to work for passing on to another company involved. This was successful and items which would have normally been sent to landfill were re-used. Also, a quantity of computer monitors which were to be disposed of were offered to another company also in the scheme to uplift and re-use where appropriate.
We have also worked with other suppliers to raise their awareness of reducing the amount of plastic coverings, pallets etc for deliveries and also to consider re-using such pallets for our own load-outs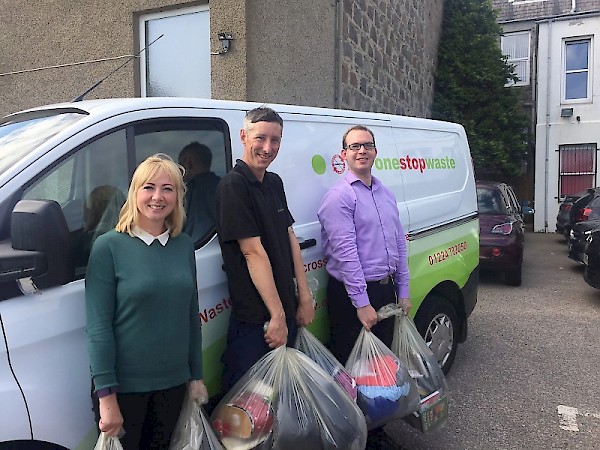 ---
So what's next?
We are keen to further improve and will continue to work closely with One Stop Waste. We will look at company initiatives where staff can be further involved and look to use the information resources available to achieve employee engagement.
We will also continue with sharing the 'Not-For-Landfill' scheme with clients and suppliers to try and get their involvement.
---
Contact Altus Intervention at:
Tel: 01224 783707
---
---
---
COMPANY CASE STUDY

---
Why did you join the Not-for-Landfill Campaign?
At Aberdeen Exhibition and Conference Centre (AECC), we are serious about sustainability. As part of our ongoing journey to sustainability a key focus for us has been our environmental credentials and in particular the effective management of waste at the venue.
Beginning with a commitment to changing behaviours and with much work into developing how waste is managed within the venue, we have managed to divert 100% of our waste from landfill since July 2014.
Prior to this (in the first six months of 2014), we were diverting only 60.5% of our waste from landfill, with around 11.5 tonnes going to landfill every month. This didn't fit with the evolving company ethos and we knew we had to turn it around, which with the work of our dedicated staff and the help of our specialist waste management contractor, One Stop Waste Solutions, we succeeded in achieving this major goal.
In 2015 we were proud to announce that we were the first major venue in Scotland to be certified as ISO 20121. This international standard for sustainable event management was designed specifically for the event industry to improve the sustainability of business related activities, products and services.
We are also proud to hold the Gold level Green Tourism Business Scheme (GTBS) award which was first awarded to AECC in 2012, and is assessed through audits every eighteen months.
We also encourage event organisers holding events at the centre to offset their carbon footprint through Trees4Scotland, a company dedicated to planting native permanent woodlands in Scotland.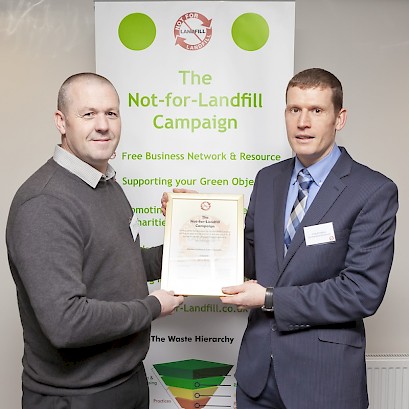 Craig Buchannan receiving the AECC's Not-for-Landfill certificate from Craig Donoghue, One Stop Waste Solutions ltd in April 2016.
---
What kind of actions have you taken previously against the Not-for-Landfill Waste Hierarchy?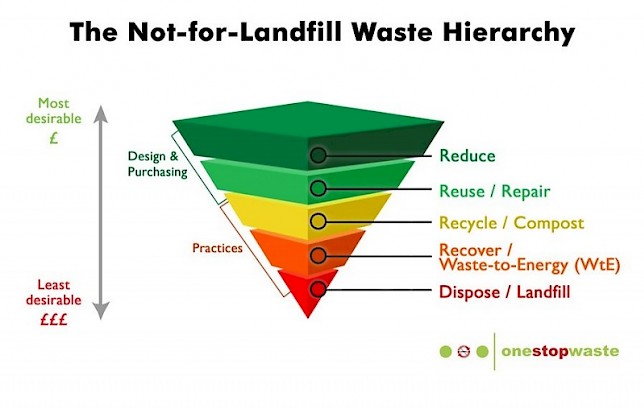 REDUCE
In 2015 we hosted a "Suppliers day" which featured presentations focusing on waste and round-table discussions which encouraged our suppliers to network and brainstorm together on issues such as ways to reduce packaging on deliveries and innovative ways to be sustainable thereby creating less waste.
Other ways we have tried to reduce waste include the introduction of LED light bulbs throughout the venue, which help reduce waste given their longer life. We also encourage the use of USB sticks, rather than paper printouts of presentations we deliver or sales literature at events we attend to reduce paper waste.
RE-USE
We re-use items where possible including wooden pallets and cardboard boxes, we also have a policy that all printing is double-sided to cut down on paper usage (and therefore waste)
REPAIR
We have invested in a heavy duty sewing machine so we can repair and re-use drapes; upcycling them by shortening and re-hemming them so they can be put to other uses such as stage-drapes . Previously these may have gone to landfill.
We also repair fixtures and fittings such as fire doors and furniture where possible.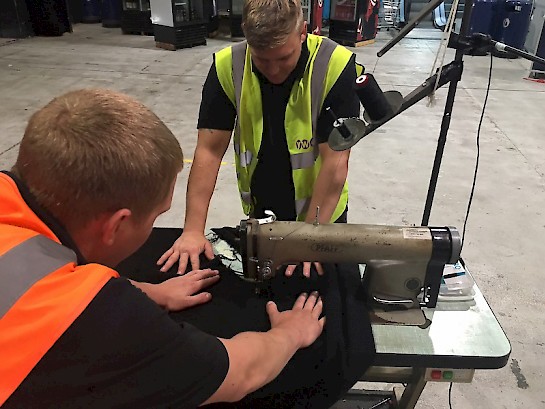 RECYCLE
Working with our waste contractor One Stop Waste we have achieved some notable successes with our recycling rates.
We are now able to recycle used exhibition carpets into plastic pellets, as we host many events each year this can easily be 120,000m2 (30,000 tonnes) of carpet, which in the past would have went as general waste. This has meant a large contribution to our recycling rates.
By working with local waste management company One Stop Waste Solutions we contracted to have our Dry Mixed Recycling (cardboard, paper, plastic, cans/tins/foil) recycled into materials like plastic "Bags for Life", toilet paper, and direct recycling into aluminium cans, steel cans etc.
We also compost all food waste from the venue, which includes Vegware (compostable products) which we use in the venue in place of paper plates, paper/plastic cups, plastic cutlery, food packaging in our café, napkins, etc.
We have also ensured that all our hazardous wastes including electrical wastes, fluorescent light fittings, toner cartridges are repaired, treated, recycled and ultimately disposed of responsibly and in compliance with the law.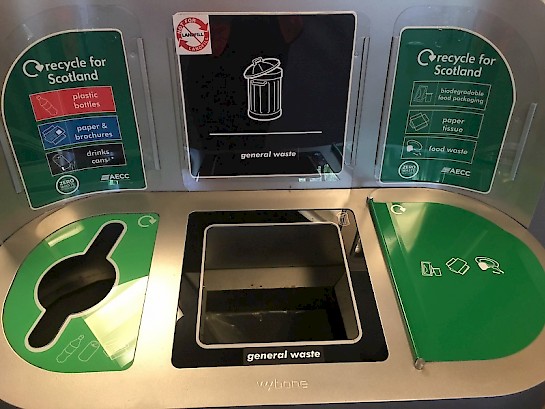 RECOVER
One Stop Waste also ensure that our general waste is:
1) "picked" to salvage any materials still suitable for recycling,
2) the residual general wastes are then put to a Waste To Energy disposal route to convert/recover them into electricity to be utilised by the national grid. This is a greener solution than landfill and as such we prefer it.
This work culminated in us achieving an overall recycling rate of 74% in 2015 with the remaining 26% going to Waste to Energy rather than landfill.
Our recycling rate dropped in the first two months of 2016 which we attribute to a few very large events where exhibitor waste was wrongly segregated by contractors. We have been working to address this and put plans in place to counteract this moving forward.
---
Now you have taken the Not-for-Landfill Pledge. What are you doing to avoid landfill with your waste? e.g. to reduce, re-use, upcycle, recycle and use Waste to Energy as your destination for your waste? Note – I have attached the waste hierarchy diagram to utilise here.
Specific actions taken since we took the Not-for-Landfill Pledge include:
1) We have plans to donate 200 conference seats, that in previous years may have been landfilled, to local Aberdeen social enterprise and Not-for-Landfill supporting partner "Instant Neighbour"
2) Similarly, we will be recycling a trial load of waste wood with another Not-for-Landfill supporting partner and Pitmedden based social enterprise Wood RecyclAbility.
3) We have investigated the potential of donating lost and found items (after we have followed all reasonable procedures and efforts to have them returned to their owners of course) to a local charity however we have been advised by the local constabulary that this would not acceptable to the police as they would require to be the final destination still for these items.
4) We have also Implemented some "waste awareness" training to staff with the help of our waste contractor One Stop Waste Solutions, changed the signage on internal bins removing mention of "Landfill" and secured an amended monthly waste report that we receive from our waste contractor also to help us keep track on the percentage of our waste that goes to Waste To Energy routes better.
---
Is there anything more you would like to do to further improve your Not-for-Landfill credentials in the future?
Further suppliers engagement by repeating our supplier day annually to seek further opportunitites to reduce our waste levels.
Looking to further our engagement with social enterprises and charities and responsible waste management would form a key part of this.
Contact the AECC
AECC, Bridge of Don, Aberdeen, AB23 8BL
Phone: +44 (0) 1224 824824,
Email aecc@aecc.co.uk
---
---
COMPANY CASE STUDY
Banchory Beer Festival - A Not-for-Landfill Festival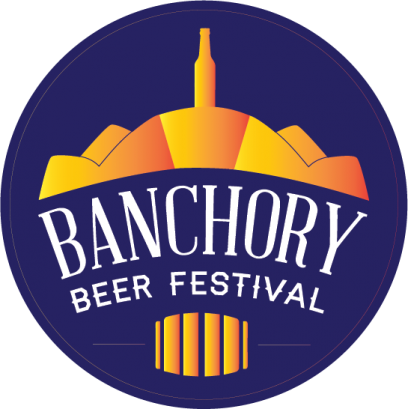 MFGF Events Ltd (the events management company behind both Banchory & Inveruire Beer Festival's) joined a local environmental campaign this year - The Not-for-Landfill Campaign. We joined the campaign as we were aware of the large amount of waste that our events can produce and we wanted to maximise the possibilities of recycling.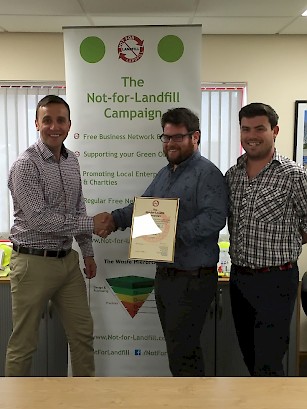 Mungo and Guy Finlayson (MFGF Events) accepting their certificate from Stuart Youngson, Campaign Manager, Not-for-Landfill Campaign.
What do we do to avoid landfill?
Since starting out with our first events back in 2014 we used disposal plastic glasses. Since and following customer feedback and trying to reduce waste we now incorporate reusable plastic cups into our events, which as the name suggests can be used over and over again. We also up-cycle a lot of materials for building our bars including old pallets and potatoes boxes.
By working with our local waste management company One Stop Waste Solutions Ltd we have all our Dry Mixed Recycling (cardboard, paper, plastic, cans/tins/foil) recycled into materials like plastic "Bags for Life", toilet paper, and direct recycling into aluminium cans/steel cans.
One Stop Waste also ensured that our general wastes were firstly "picked" to salvage any materials still good for recycling and then any residual wastes are put to "Waste To Energy" to convert into electricity which is then utilised by the national grid.
This is a much greener solution than landfill and as such we prefer it.
Landfill Diversion
The years (2016) festival generated a total of 4880kg's of waste:
1140kg General Waste
1440kg DMR – Cardboard, paper, plastic and cans/tins.
2300kg Glass – mixed colours
Working with our waste contractor One Stop Waste Solutions we managed to recycle 59% and Recover* 32.5%, meaning we diverted 92% of all waste from landfill!
We are thrilled with this, as previously we would have landfilled at least 40%.
*Recovery of the latent energy and create electricity for the national grid via a Waste-to-Energy incineration process.
Find out more here
https://www.pressandjournal.co.uk/fp/news/aberdeen/988936/popular-aberdeenshire-beer-festival-to-be-one-of-uks-greenest-events/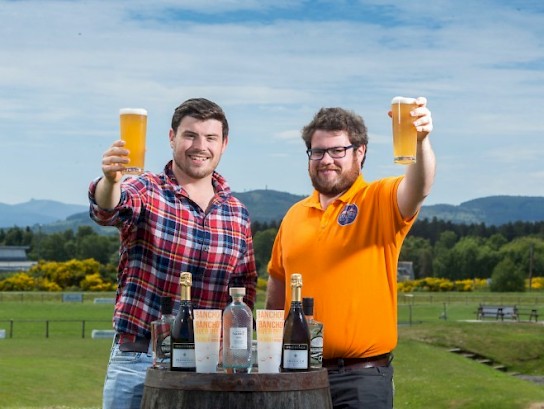 ---
---
SUPPORTING PARTNER CASE STUDY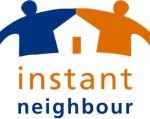 Instant Neighbour was established in 1984 to provide advice, support and practical assistance to those in need in Aberdeen and Aberdeenshire. We provide goods and services to the most vulnerable people in society, those living in areas of multiple deprivation, young people not in education, employment or training and those who have a culture of never having worked.
Instant Neighbour supports those on low incomes by providing low cost 2nd hand furniture. We have 3 retail outlets. Two called Home Comforts in Union Square and Great Western Road, then one at St Machar Drive. Through donations of items from households and businesses in Aberdeen and the Shire, we clean and prepare the stock to a high standard, so that those on low incomes can afford them. We also accept white goods and small electricals, which are all PAT and function tested, to ensure they are safe to use again.
As well as in our warehouse, vans and shops, we are able to offer employment experience through volunteering. We help to give people purpose, build self-confidence and self-esteem. Last year we were delighted to be able to offer 3 volunteers permanent work, 2 work in our shops and one drives our van.

We are proud to be involved in developing the circular economy diverting over 100 tonnes of furniture, furnishings and electrical goods from landfill in 2015. We anticipate this amount growing in 2016 and look forward to working more with One Stop Waste and the Not-for-Landfill campaign, so that we can increase and raise awareness of the circular economy in Aberdeen City and Shire.
Instant Neighbour
5 St Machar Drive
Aberdeen
AB24 3YJ
(01224) 489955
(01224) 488084
info@instantneighbour.co.uk
www.facebook.com/instantneighbour
---
---
COMPANY CASE STUDY

1) Who are you and why did you join the Not-for-Landfill Campaign
Subsea Piping Solutions was founded in 2015 and specialises in Orbital Welding, Instrument Piping and Aftermarket Refurbishments for the Oil & Gas Industry.
Our values are Excellence, Precision, Traceability, Safety, Service and Delivery. We care about our people and those around us and we have respect for our surroundings and the environment we live in. We are committed to reducing waste wherever possible. As well as achieving ISO 9001, we are proud to hold ISO 14001 accreditation for our Environmental Management Systems.
We joined the 'Not-for-Landfill' campaign because we felt that the cause fitted nicely with our environmental goals. We hope to gain more knowledge on recycling and we hope that the information passed on to us will introduce us to new ways of working and other initiatives that will help us to further protect our environment.
2) What kinds of thing have you been doing if any to Reduce, Reuse (Repair/Upcycle) and Recycle your waste?
We have an Environmental policy in place, which we strictly adhere to. We use a local Waste Management company to collect and record all of our waste and we recycle where possible. Last year, we invested in a Biomass heating system for our site, which provides power to all of our workshops and our office. It consists of two 198 kW 'Evo World' Biomass burners which run on woodchips. It is estimated that the Biomass system will reduce our CO2 emissions by 86%.
3) Have you faced any specific challenges handling your waste?
We haven't had too many challenges, thankfully. We are in a fortunate position not to have too much waste. This is partly because we are eco-conscious and have streamlined processes process in place to reduce waste, but it is also down to the nature of what we do.
We are keen to recycle or upcycle where possible and for this, we need buy-in from staff. Communicating and informing our staff of the benefits of recycling has been an area that we'd like to look at; our staff are keen to get on board with this too, so we're hopeful for this over the coming year.
4) Do you have any plans for the future regarding your waste management?
We are keen to further protect our environment, by working closely with our waste management supplier, One Stop Waste. We would like to devise a campaign for our team, that will help to raise awareness of recycling and waste reduction. Our hope is to get more people involved and to spread the word, so that overall we become more 'eco-friendly'.
We also have plans to install a CHP plant at our premises, which will provide the heat and electricity required to run our site. This will allow us to become self-sufficient and reduce our carbon footprint even more. We are currently looking into opportunities to do this.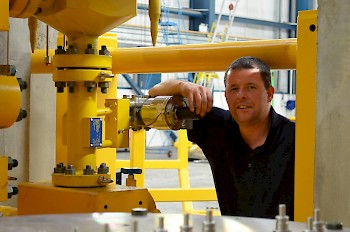 Contact SBS at:
Web: http://www.subsea-pipe.com/
FB: https://www.facebook.com/SubseaPipingSolutions
T: https://twitter.com/SubseaPipingSol
LI: https://www.linkedin.com/company/subsea-piping-solutions
---
---
SUPPORTING PARTNER CASE STUDY
WOOD RECYCLABILITY, ELLON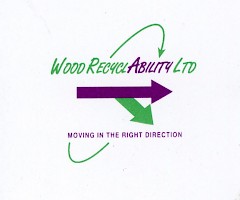 Wood RecyclAbility, just outside Pitmedden, (near Ellon), offer adults with a wide range of abilities the chance to experience a real workplace setting recycling waste wood into products of real quality. They are a social enterprise with profits reinvested into the business for the benefit of their service users. Each trainee is provided with tuition on how to use a variety of tools, process waste wood and get involved in making a range of recycled products which are sold direct from their premises. They can either collect your clean uncontaminated waste wood and pallets direct from you or indeed accept delivery at their facility.
Products made onsite include:
• Garden products e.g. benches, love seat, picnic tables, planters and troughs etc
• Wildlife products e.g. nesting boxes, bird tables, bat boxes, squirrel feeders, hedgehog boxes and bee boxes.
• kindlers and wood chips which can be used for chicken runs and garden mulching.
• Wood chips are provided for onward use to be converted into chipboard.
"Our trainees develop personal, social and interaction skills with customers, staff and visitors. They become much more confident and feel valued within their work place and community. Our dedicated staff and volunteers, which includes a Board of Directors, are entirely devoted to our, inspiring, infectious and uplifting social enterprise - which is Wood RecyclAbility"
Duncan Rennie,, Wood RecyclAbility. .
"Every time we visit Wood RecyclAbility we are blown away both by the dedication and skill of the team and the quality of the products they recycle from waste wood"
Craig Donoghue, One Stop Waste Solutions Ltd
Contact Wood RecyclAbility today and together Let's Put Waste In The Right Place!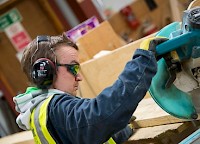 Wood RecyclAbility,
Cloisterseat Croft,
Udny
Pitmedden
Ellon
Aberdeenshire
AB41 7PR
Tel: 01651 842876
http://www.woodrecyclability.co.uk/
Email: info@woodrecyclability.co.uk
Social Media: www.facebook.com/woodrecyclability
---
---
SUPPORTING PARTNER CASE STUDY
Rejuven8 Repairs: Repairing the North East
We at The Not-for-Landfill Campaign were so impressed with the work that Rejuven8 Repairs are doing to repair and "rejuven8" the North East of Scotland, we were thrilled when they agreed to not only join the campaign but to become our newest NfL Campaign Supporting Partner! Here's why they joined the campaign and what they have been doing as members:
"Joining the 'Not-for-Landfill' campaign was a real win-win for Rejuven8 Repairs. The main reason for our cosmetic repair industry is to make savings, not only financial but also savings with waste due to the two operating hand in hand. Throwing items away, disposing of them properly and of course legally can be one of the most expensive parts of a construction project, not to mention the other sectors we operate within.
Rejuven8 Repairs offer a multi surface repair service which sees us making repairs to damaged items that would have previously been replaced and thrown away. We make invisible repairs to virtually any surface and also have a bath resurfacing service that has proven to be very popular. Since our start in June 2015 we have risen very quickly across the North East of Scotland which has aided us in being nominated for the Best New Business award at this years TradesAwards!
When we heard that One Stop Waste had created the Not-for-Landfill campaign and had set themseleves a target of saving 1000 Tons we felt that we could make a huge difference by taking the pledge and adding up the total weight of items that we had repaired over our first year in business. Since our start in June 2015 Rejuven8 Repairs has saved our clients from adding a total of 73 Tons to Landfill which translates into a financial saving of over £6800, when we consider that in Scotland Landfill tax is set at £84.40 per ton.
As we took the Pledge and joined the Not-for-Landfill campaign we have also been learning and improving our recycling methods as we have worked through the steps set by One Stop Waste.
At home we have been separating waste for a long time now however since joining the campaign we have been separating our glass, plastics and also cardboard from our general waste and dropping them off to the correct recycling bins at Tesco in Danestone. We have also been making the staff of Regus whom we have our office with more aware of their recycling responsibilities and believe that they are on the verge of having all three of their Aberdeen Serviced Office centres join the campaign!! We have also created our very own Not-for-Landfill webpage on our company website which is already very highly ranked within Googles search engines!
The most impressive change we have made over the past few weeks has been with our waste paint that we usually sent to our paint supplier to dispose of properly. Now we are not sending any waste paint away to be disposed of as we are now using the waste paint, with the help of some tinsters, to make superhero themed canvases for kids in Aberdeen. Not only is this saving waste paint being sent away for treatment but it is also bringing some community joy back into the city that we operate within. We are currently speaking with a local charity with a view to donating the canvases that we make with our waste paints to them.
Moving forward as a certified member of the Not-for-Landfill campaign we are going to look at gaining our waste carriage license, we are looking to learn more about each and every member of the Not-for-Landfill campaign, and of course continue to spread the word of the campaign with the huge benefits it can offer!!
Gordie Wallace Rejuven8 Repairs"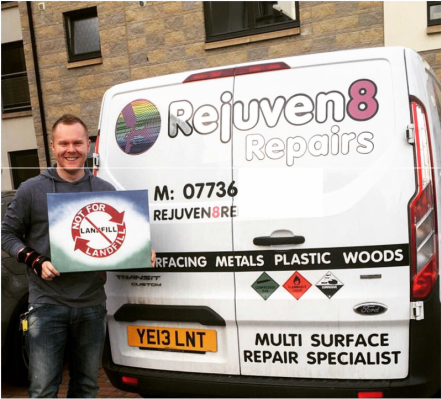 Gordie Wallace (Rejuven8 Repairs) with an example of the art work they make from their waste paint!
Rejuven8 Repairs Riverside House Riverside Drive Aberdeen AB11 7LH
---
---
NOT-FOR-LANDFILL COMPANY CASE STUDY

Dolce Vita Flowers: A Not-for-Landfill Success Story
Dolce Vita Flowers are an award winning florists with premises in both Aberdeen City and Aberdeenshire.
Despite already doing so much good with their waste, Dolce Vita chose to be one of the first companies to take the Not-for-Landfill Pledge.
Since taking the pledge they have transformed their waste bill by following some Not-for-Landfill advice. Here is their story:
In September 2015, Dolce Vita chose a new waste contractor (One Stop Waste Solutions Ltd) and to recycle the majority of their wastes. Before this date they were landfilling all their wastes via their previous contractors general waste service.
Impressively they decided to take on the following services:
All "Green Wastes" (ie flower cuttings, stems and stalks; tea bags, used paper towels and any food wastes) segregated for separate collection and composted locally. This compost was then used by either local farmers, horticulturalists, landscape gardeners or by domestic markets to help condition the soil of the north east of Scotland and of course grow the flowers, plants and food of tomorrow.
All Cardboard, Paper, Cans/Tins and Plastic (including packaging wastes) are collected as part of a "Mixed Recycling" service. These wastes are then recycled.
All General Wastes are sorted at the One Stop Waste's facility with a view to further recycling and then the vast majority of any remaining wastes are then put to "Waste To Energy" to be converted into electricity (by incineration) destined for the national grid.
In April 2016, upon taking the Not-for-Landfill pledge they followed some NfL advice and negotiated with a supplier to remove and recycle their recyclable wastes for them!
This was an amazing result meaning they:
Were not only still diverting circa 98% of their wastes from landfill!

And they reduced their waste bill by 81%!!
A fantastic Not-for-Landfill success - Well done Dolce Vita Flowers!
---
---